Frequently Asked Questions in Custom Home Lighting Design – Let's Get Outside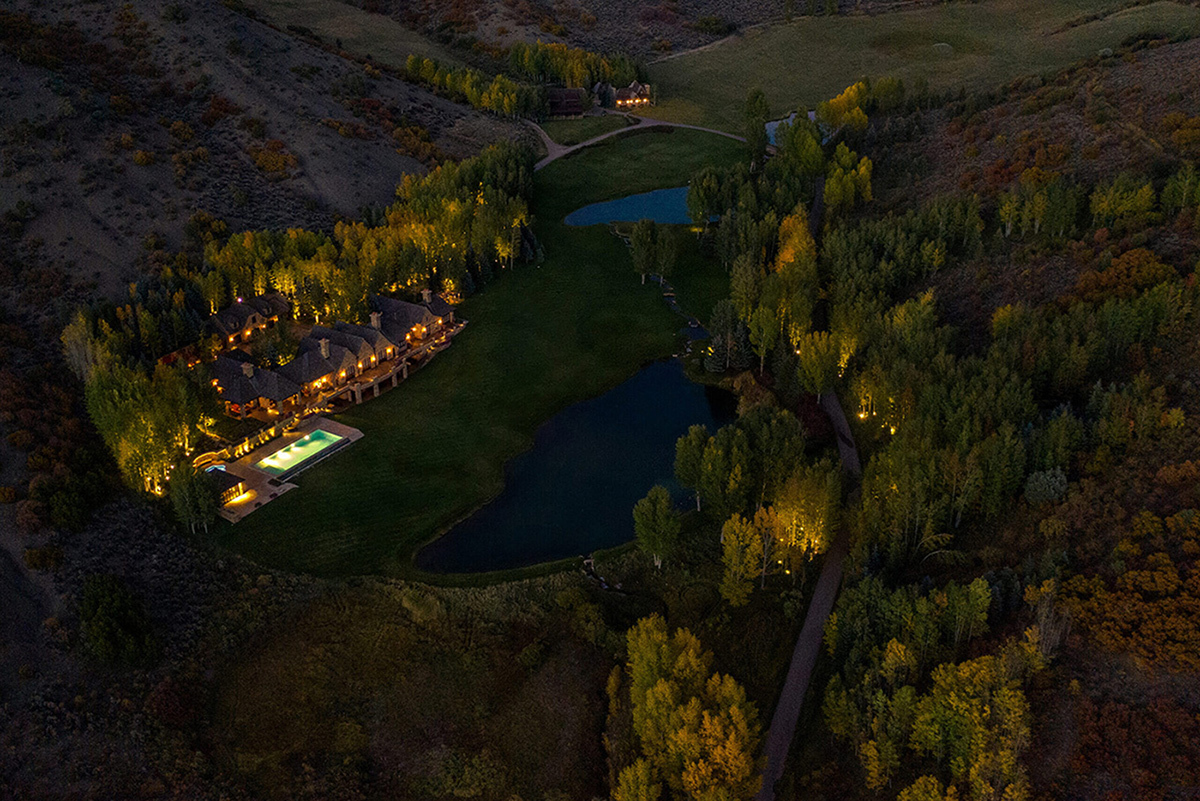 When it comes to your home's exterior, outdoor lighting plays a crucial role in enhancing and highlighting its character and style. Whether you're situated beachfront or in a mountain chalet, it's not just about functionality; it's about creating a beautiful and visually engaging landscape that reflects the same level of care put into the interior lighting design strategy. From enhancing safety and visibility to supporting year-round use or highlighting the unique qualities of your vegetation, outdoor lighting can be key to transforming your experience outdoors. In previous blogs, we've answered often-asked questions about getting started and engaging in the custom home design process. Now, let's head outside and explore the dos and don'ts of landscape lighting design.
Is exterior lighting an absolute must-have for my property?
Exterior lighting isn't merely about necessity, safety or perimeter visibility – though all should be taken into consideration – it's about contributing to your overall enjoyment of your custom home and enhancing its livability inside and out. Even something as simple as the absence of meaningful exterior lighting on a deck or patio can cause a mirror effect on your interior windows, so you really do need it unless you want to always be looking at your reflection in the glass.
So, start by thinking about how far out onto your property you want to be able to see; that's where we begin our lighting strategy, working inward toward the home. Other important considerations are the need for wayfinding around the property and what different moods you might be trying to establish in various areas of the exterior, from a soft-lit entertaining space to the focal point established at the front entrance.
Will you collaborate with our landscape architect to develop the exterior lighting plan?
We actively engage with landscape architects to create lighting concepts that align with their vision and ideas for the project. We prioritize finding ways to work with landscape architects to elevate their plans, going beyond conventional techniques and fixtures to include more out-of-the-box approaches. For example, instead of a more standard plan of ground-mounted path or step lights, we might think about how we could illuminate those same surfaces through tree-mounted fixtures.
Most important to the early design collaboration is enhancing the overall design and functionality of the outdoor space year-round, no matter the geography.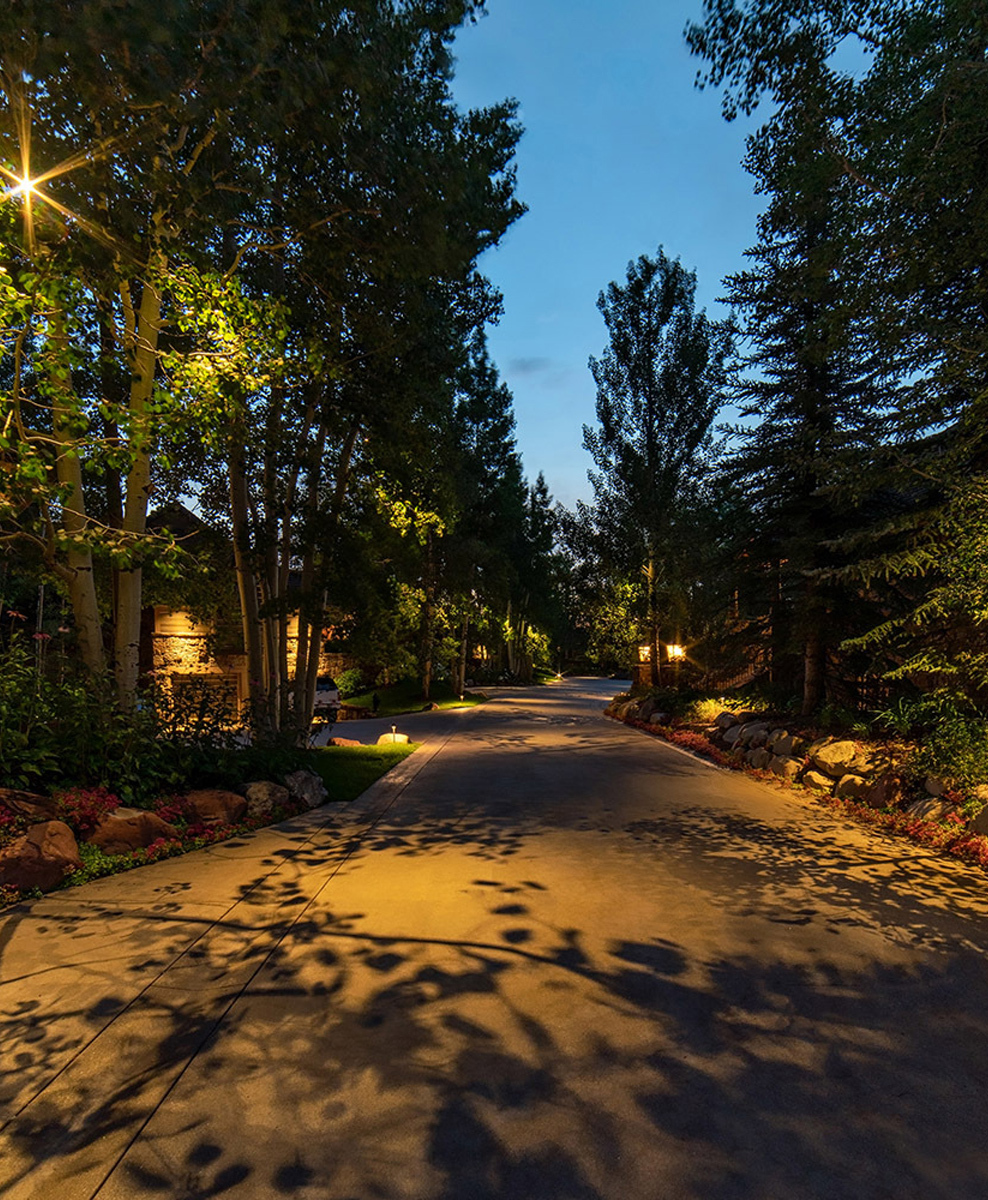 So, how much of my budget do I need to plan for exterior lighting?
The allocation of the budget for outdoor lighting design is highly variable and largely depends on the specific rules governing lighting, residential and otherwise, which can vary significantly from one jurisdiction to another. These regulations, which are aimed at meeting community expectations like minimizing light pollution or promoting energy conservation, can cover lighting considerations ranging from types of fixtures used to the placement, direction, intensity and color temperature of lighting.
Our approach to lighting design is holistic, so when we are crafting a lighting strategy, we consider the incorporation of exterior lighting design as a necessary component, whether the execution is simple and understated or involves many layers of lighting. We pay attention to the emotional and practical applications of lighting – from what a home feels like as you drive up and walk in, to the level of illumination needed for homeowners to use outdoor spaces in a realistic way.
What are your first questions when approaching a new project for exterior lighting design?
When we start a project, our first step is to review local lighting regulations, which encompass dark sky ordinances, city or town requirements and any homeowners' associations (HOAs) guidelines. To ensure our lighting design will be in complete compliance with all overlapping regulations, we design to the most stringent guidelines: knowing what we can do and what we're allowed to do and working backward from there.
Another initial consideration is understanding the use and design of outdoor living spaces, including architectural elements and materials the landscape architect will be utilizing. We delve into our clients' preferences, understanding not only how they envision using the space but also identifying specific areas that do or do not require illumination. We might not need to light a path that would never warrant nighttime use, but we definitely want to give some attention to an entertainment spot like a spa, pool or starlit seating area.
How does the lighting approach vary based on geographical location?
Geography plays a pivotal role in shaping lighting strategies. In mountainous areas like Colorado, where weather is a major consideration and strict regulations dictate lighting, a top consideration is snow removal and storage. Ground-mounted lights can be vulnerable to damage from snowblowers or shovels, so it is important to determine where and how we choose to utilize in-set path lights or raised fixtures.
In a more tropical climate, like our recent project in Costa Palmas, Mexico, fixtures have to be rust-resistant to combat the salty air and mounting locations might take into consideration the possibility of strong coastal winds.
Beyond weather-related challenges, different climates feature different distinct tree and plant varieties, which impact design styles. From evergreens to palms, we consider how various lighting fixtures emphasize a tree's form.
For instance, regions with evergreens, aspens, and seasonal perennials may tend toward sleek tree lighting. Conversely, seaside locales with vibrant year-round architectural plants provide unique backdrops for lighting design. Whether it's an upscale mountain retreat or an elegant beachfront property, the geographical context significantly influences the lighting style, as we create atmospheres that reflect the location's nature and character.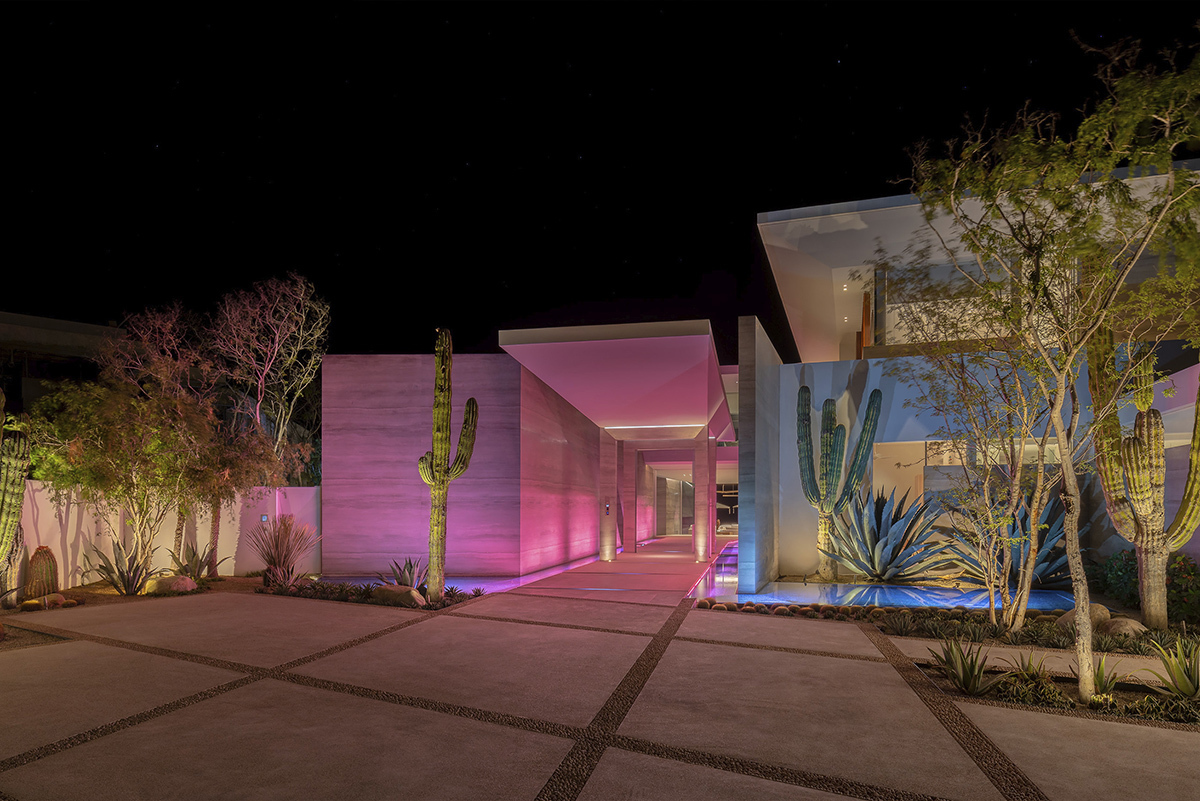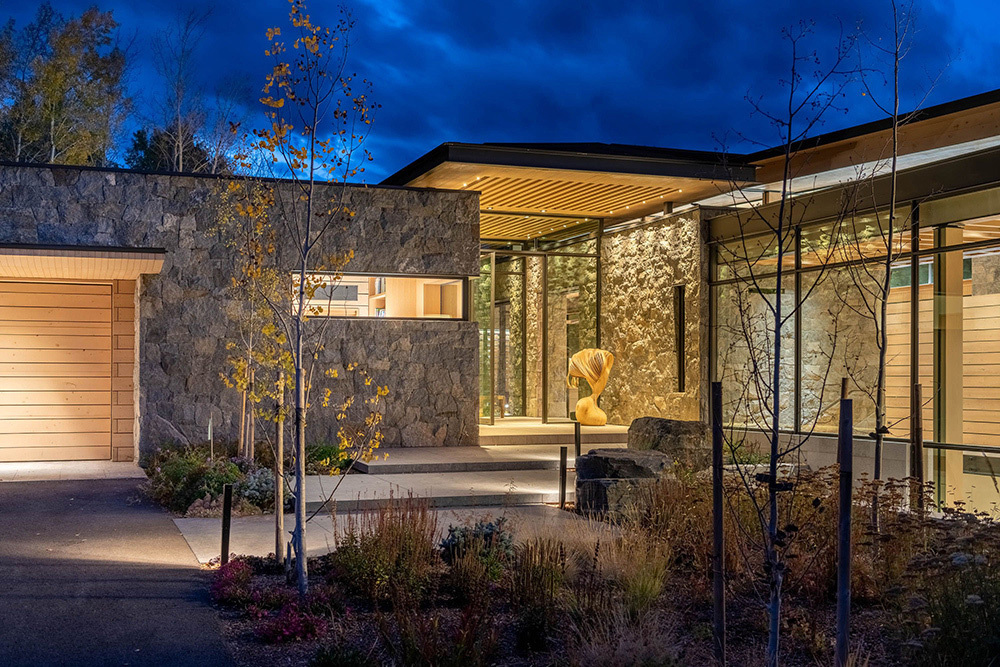 Are there any interesting trends or approaches that we should consider for my project?
In exterior lighting, striking the right balance is key – not over-lighting or under-lighting. This equilibrium guides our design above any trend; we want to tell timeless and lasting lighting stories with our clients.
However, we have seen evolutions in exterior lighting approaches such as the creation of indoor-outdoor spaces. Particularly useful during warmer months or in warmer climates, the approach effectively expands your living area. This concept execution varies with geography but universally it serves to extend the view from inside your home, preventing dark windows from turning into mirrors. Generally, exterior lighting techniques, fixtures and color palettes lean towards subtlety rather than bold statements.
It is important that the exterior lighting complements the interior and exterior architecture of a home. For instance, in ultramodern architecture, it is popular for linear fixtures to up-light exterior walls. Even the choice between modern path light fixtures and traditionally styled fixtures can make a significant difference as it relates to the impact on the experience.
And, of course, we have seen many clients trend toward the inviting ambiance created by bistro lights on outdoor patios.
Exterior lighting ultimately isn't just about functionality; it's the art of elevating your home's character and style. No matter your home's location, we help clients achieve captivating landscape lighting that seamlessly integrates with their overall lighting design for a true interior-exterior approach.